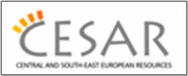 Resource Name:

English-Serbian Aligned Corpus

Resource Short Name:

SrpEngKor

Resource Description:

Contact Person:

Duško Vitas

Contact Email:
CONDITIONS OF USE
English-Serbian Aligned Corpus (SrpEngKor) is distributed under the terms of the CC_BY-NC licence

.
In your publications presenting the results obtained by using English-Serbian Aligned Corpus you should make attribution to Duško Vitas, Miloš Utvić, Cvetana Krstev, Ivan Obradović and cite
Cvetana Krstev, Duško Vitas, "An Aligned English-Serbian Corpus", In: ELLSIIR Proceedings (English Language and Literature Studies: Image, Identity, Reality), Volume I, Belgrade, 4-6 December 2009, eds. N. Tomović & J. Vujić, pp. 495-508, Faculty of Philology, University of Belgrade, ISBN 978-86-6153-005-0, 2011.
You must accept the terms of this license to use this resource. Contact person(s) will send you the username and password to access the resource.
DO YOU ACCEPT THE TERMS OF THIS LICENCE?