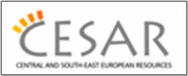 Resource Name:

French-Serbian Aligned Corpus

Resource Short Name:

SrpFranKor

Resource Description:

Contact Person:

Duško Vitas

Contact Email:
CONDITIONS OF USE
French-Serbian Aligned Corpus (SrpFranKor) is distributed under the terms of the CC_BY-NC licence

.
In your publications presenting the results obtained by using French-Serbian Aligned Corpus you should make attribution to Duško Vitas and cite
Duško Vitas, Cvetana Krstev, "Literature and Aligned Texts", in Readings in Multilinguality, eds. Milena Slavcheva, Galia Angelova and Kiril Simov, pp. 148-155, Institute for Parallel Processing, Bulgarian Academy of Sciences, Sofia, Bulgaria, 2006.
Duško Vitas, Cvetana Krstev, Eric Laporte, "Preparation and exploitation of Bilingual Texts", in Lux Coreana, No. 1, pp. 110-132, Han-Seine, 2006.
You must accept the terms of this license to use this resource. Contact person(s) will send you the username and password to access the resource.
DO YOU ACCEPT THE TERMS OF THIS LICENCE?