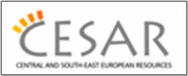 Resource Name:

Named Entities evaluation corpus for Serbian

Resource Short Name:

SrpNEval

Resource Description:

Contact Person:

Cvetana Krstev

Contact Email:
CONDITIONS OF USE
Named Entities evaluation corpus for Serbian (SrpNEval) is distributed under the terms of the CC_BY-NC licence

.
In your publications presenting the results obtained by using Named Entities evaluation corpus for Serbian you should make attribution to Cvetana Krstev and cite
Cvetana Krstev, Jelena Jaćimović and Duško Vitas, "Recognition and normalization of some classes of named entities in Serbian", BCI '12 Proceedings of the Fifth Balkan Conference in Informatics, ACM New York, NY, USA, 2012, pp. 52-57, eds. Mirjana Ivanović and Zoran Budimac, ISBN 978-1-4503-1240-0, DOI 10.1145/2371316.2371327
Cvetana Krstev, Duško Vitas, Ivan Obradović, Miloš Utvić, "E-Dictionaries and Finite-State Automata for the Recognition of Named Entities", in Proceedings of the 9th International Workshop on Finite State Methods and Natural Language Processing, FSMNLP 2011, Blois, France, July 12-15, 2011. eds. Andreas Maletti and Matthieu Constant, Association for Computational Linguistics, ISBN 978-3-642-14769-2, pp. 48-56, 2011.
You must accept the terms of this license to download and use this resource. Contact person(s) will send you the username and password required for a download.
DO YOU ACCEPT THE TERMS OF THIS LICENCE?